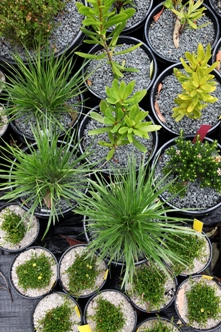 Tasmanian Plant Links
Key to Tasmanian Vascular Plants: A website with information about all Tasmanian plants, including photos, information about distribution and a key so that you can work out which species a plant is.
The Little book of Common Names of Tasmanian Plants: This PDF booklet gives a list of the accepted common names of Tasmanian plants
Tasmanian Herbarium Plant List: The current list of all accepted and superceded names for Tasmanian plants can be downloaded from this site.
Paulette Whitney's Provenance Growers blog: A blog about growing and appreciating local Tasmanian plants.
Australian Plants Society of Tasmania: Join this society to learn more about growing and understanding Tasmanian and other Australian plants. This link is to the Hobart group. There are also groups in Kingborough, Launceston and the north-west.
Understorey Network: This group supports growers of native plants used to revegetate the forest understorey. We highly recommend supporting this group.
Greening Australia: An Australia-wide group that is dedicated to re-greening the Australian landscape through planting trees and shrubs. Greening Australia is very active in Tasmania, and we highly recommend supporting them.
Here is site that tests your plant recognition skills. It is designed for Australian plants in general, so will include many plants that don't grow down here.
Other Ridgeway Nurseries
Jubilee Nursery: Unfortunately the rhodo nursery that was next door has now closed.