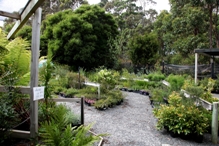 Coming to the nursery is the easiest way to buy plants. We can also best offer advice in person, we prefer not to advise via email as it can be too difficult for specific advice.
We offer a delivery service to suburbs in the Hobart Metropolitan area and for Launceston based customers we can offer a transfer service to Niche Plants (Launceston). For deliveries further afield in Tasmania its best to contact us to discuss your requirements.
For interstate customers we offer delivery via Australia Post (eastern states only – conditions apply for South Australia) at certain times of the year and also via Tasmanian Plant Transport to Victoria. Please contact us to discuss your interstate delivery and order requirements.
The conditions of this scheme may be changed without notice. If you have any questions, please contact the nursery.