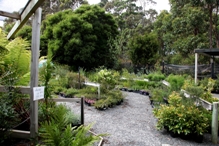 Coming to the nursery is the easiest way to buy plants. We have credit card facilities (VISA and Mastercard but neither AMEX nor Diners Club), and will in general accept cheques.
We also take orders by phone or email. If you send a list of plant names and quantities, we will check availability and get back to you with a quote. We can then either put the plants aside at the nursery, or forward them to you. Payment for orders freighted to you can be by VISA or Mastercard, money order, Paypal or Electronic Funds Transfer.
Interstate sales
There are no permits required or restrictions on taking plants to the eastern states and S.A., but some apply to W.A. Plants can be packed and posted to your door. We can send up to 8 square tubes or 6 round tubes for $25 packaging and freight. The next size up is 18 tubes for $45. This is a next day delivery to major centres. We can quote to send larger pots, but this can be quite expensive.
Elsewhere in Tasmania
Most of Tasmania is covered by Fastway. A box of plants freighted to your door or nearest depot costs $15.
Note that all freight charges will be determined on a case-by-case basis. The actual charges may differ from those listed above, but we will confirm all charges before consigning packages.
Overseas
We are not able to send plants outside Australia.
Bulk Discounts
We operate a bulk discount scheme for large purchases of most plants grown in square, 50 mm forestry tubes that normally retail for $3.25. These include most seed-grown Eucalypts, Acacias, Melaleucas, Allocasuarinas, Pomaderrises, Leptospermums, Callistemons, Hakeas and others. It does not include cutting-grown plants or Banksias. The initial purchase must be of 50 plants to qualify for the discount, and 25 plants in subsequent purchases. The minimum number of tubes per species in any purchase is 5. This scheme is aimed at supporting small- and large-scale revegetation projects.
Prices are:
25-49 plants: $2.25
50-99 plants: $2.00
100+ plants: $1.80
The conditions of this scheme may be changed without notice. If you have any questions, please contact the nursery.