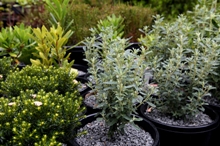 Plant Lists
We provide many lists for you to look for plants to suit your needs. The main lists are botanical
names by alphabetical order. Click on the letter below to go to a list of plants starting with that
letter. Acacias and Eucalypts have their own pages. On these pages there are cultivation notes for each species, as well as prices for tubestock and more advanced plants. General cultivation notes are available here.
Note that these lists contain all (or nearly all) the Tasmanian plants that we grow. Many of these may not be available at a particualr time due to the cycle of production and customer interest. We also grow many mainland species - click here for a list of some of the mainland species currently available or in production.
We also provide lists of plants along themes, such as flower colour, size, suitability for dry climates etc. Click on a link to get a list of plants with the characteristic listed. We also have lists of plants that grow naturally in suburban areas around Hobart, as well as plants suggested for each southern Tasmanian municipality by NRM South.
We are always on the lookout for new lists, so if you have a suggestion that you would like to see, please contact the nursery.