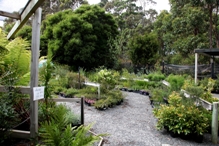 Books
We stock a selection of books that deal with Tasmanian plants. These include:
A guide to flowers and plants of Tasmania, by the Launceston Field Naturalist Society. This book gives pictures and short details of many Tasmanian plants $30.00.
Native Trees of Tasmania, by Jamie Kirkpatrick and Sue Backhouse. This book has line drawings and short details of most Tasmanian trees,including detailed distribution maps. $16.50
Tasmanian Plant Names Unravelled, by Mark, Annie and Hans Wapstra. This weighty book gives not only the meanings of the names of all plants that grow in Tasmania, but also much much more on Tasmanian Plants. $75.00.
Tasmanian Wildflowers, by Bob Minchin. This book gives pictures and short details of many Tasmanian plants $21.95.
Acacias of Tasmania, by Marion Simmonds. This book describes all wattle species found in Tasmania. $19.95
Flora and Fauna Guide to the Upper Florentine Valley. This booklet describes the fauna and flora of this special valley. $15.00
Living with Plants. Revegetation Guidelines for the North West. This booklet gives guidelines for revegetating areas in Tasmania's north-west. Many of the plants described grow elsewhere in Tasmania. $30.00
Correas. Australian Plants for Waterwise Gardens, by Maria Hitchcock. This beautiful book gives information about all species of Correas across Australia, including the four species from Tasmania. Be inspired by the many beautiful species and forms. $35.00
Plant Identikit booklets. These small books are useful pocket guides to plants in particular Tasmanian habitats. The following are in stock at present:
Coastal $7.50
Mt Wellington $6.95
Woodlands $8.50
Rainforest $7.50
Alpine $8.50
Orchids $8.50 (recently released new edition)
'Flip' guides. Eucaflip and Treeflip are guides with life-size photographic illustrations that allow simple identification of Eucalypts and common trees of Tasmania. $10.00 each
Gardening-Down Under. A Guide to Healthier Plants and Soils. 2nd edn. Keith Handreck. This book is a must for all gardeners who want a simple guide to all things to do with soils, potting mixes, water and fertilisers. Keith Handreck is the Australian guru of potting mixes and garden soils. $45.00
Good Gardens with Less Water. Keith Handreck. This book is a sister volume to 'Gardening Down-Under'. It gives numerous tips to developing water-wise gardens. $30.00
Planting Wetlands and Dams. Nick Romanowski. If you want to build a wetland or vegetate a dam, this is the book for you. Describes in detail the best approaches, and lists species to use. $59.95
Cards, prints and posters
We have selection of cards, prints and posters available featuring Tasmanian flora and scenery. Prices vary.
Potting Mix
We sell 20 litre bags of our own potting mix that is especially designed for Tasmanian native plants. $7.50
Fertiliser
We use native plant osmocote in our potting mix. We also sell it in containers from 700 g to 2.5 kg.
We also stock Seamungus, a natural organic plant tonic suitable for natives. Click here for more details from the manufacturers.
Tree Guards and Stakes
We stock plastic treegaurds for protecting plants from browsing animals and cold winds. We also have mesh guards manufactured by SureGro.
We also stock wooden and bamboo stakes to either stake plants or for the tree guards
Seeds
Want to grow your own? We have seeds of a wide range of Tasmanian plants available. $4.00 and $12.50 (selection of 4 species).
Pots
We are always on the lookout for interesting pots to enhance the beauty of our plants. We stock an eclectic range that might suit your design needs.