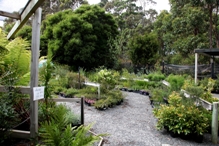 Books
We stock a selection of books that deal with Tasmanian plants. These include:
A guide to flowers and plants of Tasmania, by the Launceston Field Naturalist Society. This book gives pictures and short details of many Tasmanian plants $30.00.
Tasmania's Natural Flora The most comprehensive book on Tasmanian native plants, with descriptions and growing notes. Prepared by members of the Australian Plants Society, Tasmanian branch. $70.00
Tasmanian Flowering Plants A new field guide by well-known nature photographer Dave Watts. $34.95. We also stock Dave's 'Birds of Tasmania', 'Mammals of Tasmania' and 'Where to find Wildlife in Tasmania'.
Plant Identikit booklets. These small books are useful pocket guides to plants in particular Tasmanian habitats. All are $8.95 each:
Coastal
Mt Wellington
Woodlands
Rainforest
Alpine
Orchids
'Flip' guides. Eucaflip and Treeflip are guides with life-size photographic illustrations that allow simple identification of Eucalypts and common trees of Tasmania. $10.00 each. There is also the Fungiflip, which is a similar format but has photos of about 300 species of Tasmanian Fungi.
We also have a wide range of books about native plants that can be borrowed and can be read at your liesure. We ask for a $20 refundable deposit.
Cards, prints and posters
We have selection of cards, prints and posters available featuring Tasmanian flora and scenery. Prices vary.
Potting Mix
We sell 25 litre bags of our own potting mix recipe that is especially designed for Tasmanian native plants. $10.00
Fertiliser
We use native plant osmocote in our potting mix. We also sell it in containers from 700 g to 2.5 kg.
Tree Guards and Stakes
We stock plastic treegaurds for protecting plants from browsing animals and cold winds. We also have mesh guards manufactured by SureGro.
We also stock wooden and bamboo stakes to either stake plants or for the tree guards
Pots
We are always on the lookout for interesting pots to enhance the beauty of our plants. We stock an eclectic range that might suit your design needs.